While we have paid a tribute to writer Sujatha Rangarajan in our previous post, it's still a controvery in the case of Sujatha Krishnan, Malaysian Actress, age 29, died on July 2007 at Klang general hospital. There are so many news coming out daily in Tamil Newspapers about the sudden death. Here we've compile some of her video clippings and also news about her death.

Sujatha in Chicken Song
Foul play in Malaysian Actress Death
Saturday, 28 July 2007
Malaysian actress Sujatha, age 29, died a few weeks ago at Klang general hospital. Local newspapers did not specify the cause of her death but a police report has been made yesterday by Parti Keadilan Rakyat (Justice Party) implicating Vellpaari, Works Minister Samy Vellu's son, on her untimely death.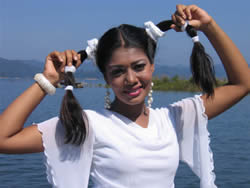 Sujatha was also the personal secretary of Vellpaari, managing director of Maika Holdings before her death. Sources say both of them were romantically involved for along time, though Vellpaari was married to popular singer Shaila Nair, and Sujatha pressed Vellpaari to marry her.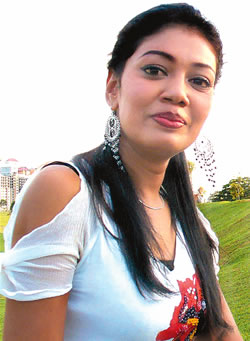 Source :
makkal Osai
Police probe 'mysterious death' of actress Soon Li Tsin
Jul 27, 2007 Malaysiakini
Call for independent inquiry on Actress Sujatha's Death
Wednesday, August 01, 2007
Manikavasam of Justice party (Parti Keadilan Rakyat) has called Malaysian Inspector of General of Police to setup an independent inquiry commission on the strange death of actress Sujatha, according to Makkal Osai daily, today.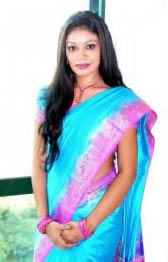 Meanwhile, Malaysiakini reported that a senior minister's son was questioned over her death for two hours without directly referring to Vellpaari, Work's minister's son, who had extramarital affair with Sujatha. Sources say that she has consumed paraquat, a weed killer pesticide used in plantations. What pushed her to take her life is unknown and many wonders if there is a cover-up.
Minister's son quizzed over mysterious death
Andrew Ong, Malaysiakini

Police chief Kumaran's threat
Monday, August 6, 2007
After Vell Paari, works Minister Samy Vellu's son, threatened to sue those who link him to Actress Sujathas suicide, now it is district police chief Kumaran's turn. According to Malaysikini, he is contemplating to take action on those who made defamatory statements against him.
This police chief was sitting on the case for more than a month doing nothing. Sujatha was not only a well known actress but personal assistant to Vell Paari and having romantic relationship.
kumaran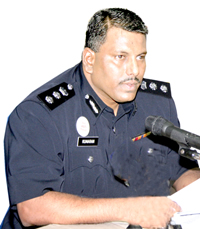 Any ordinary police man ought to know that this case should be thoroughly investigated especially when high profile personalities are involved. Police chief Kumaran did not until a police report was made. The taking over of the case by Malaysian police headquarters is evident of his total failure.
OCPD cries defamation, mulls legal action
RK Anand
Aug 6, 07 Malaysiakini
Justice for Actress
Sunday, August 5, 2007
Two of the three Tamil newspapers, Makkal Osai and Malaysia Nanban, were highlighting Sujatha's death daily in their front page almost every day, last week. Tamil Nesan has been playing a low profile on the issue. However, there are no new breakthroughs in the police investigation and the dailies are merely rehashing the same old facts.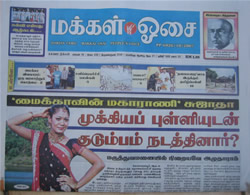 According to Makkal Osai, Malaysian Headquarters police (Bukit Aman) have inspected Sujatha's condominium and taken finger prints. This is, after all, more then one month after Sujatha's death. So far, the dailies failed to get any information from Sujatha's parents, relatives and her close friends.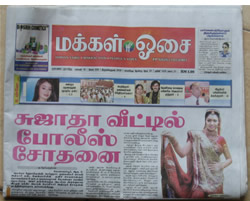 Meanwhile, Malaysia Nanban questioned how Sujatha was able to get paraquat, a weed killer poison used in plantations, which is a controlled item where the buyers can be traced.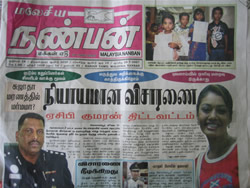 Actress's family seeks apology
The Star Friday August 10, 2007
KUALA LUMPUR: The family of late actress K. Sujatha has claimed that several people had repeatedly called their home to seek the family's support of some allegations published in two Tamil newspapers.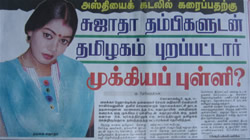 Her brother K. Ugenthiran said these individuals promised to give the family money, without any regard to the family's mourning.
"We believe they are part of a faction who had been responsible for creating and spreading false allegations and rumours that had cast a shadow on my sister's death," he said in a statement here yesterday.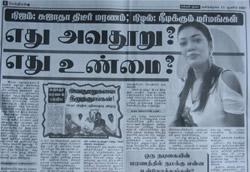 He claimed no reporter from the dailies concerned had approached him, his brother or parents to verify the true circumstances of Sujatha's death.
"I want these dailies to publish an appropriate apology as soon as possible and allow my sister's soul to rest in peace," he said.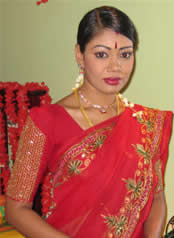 Ugenthiran, 26, said his sister was a popular Indian artiste and it was the family's wish that her death "should not be scandalised and publicised in this manner."
Early this week, a man in his 40s, who claimed to be the woman's uncle, said Sujatha had called him two days before she was admitted to the hospital, sounding worried and allegedly telling him there were people trying to harm her.
Identifying himself only as Selvam, the man said his niece promised to call him if she needed help but she never called again.
Sujatha died at the Tengku Ampuan Rahimah Hospital in Klang on June 25 of weedkiller poisoning.
Sujatha was said to have worked as a personal assistant to S. Vell Paari, the son of MIC president Datuk Seri S. Samy Vellu.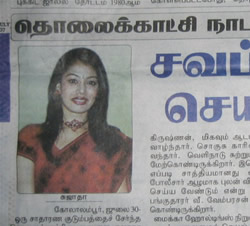 The Maika Holdings chief executive officer, however, has refuted rumours that he was linked to the actress' death.
On Wednesday, Sentul police chief Asst Comm K. Kumaran filed a RM10mil libel suit against a Parti Keadilan Rakyat official and a Tamil daily, relating to a press statement calling on the Inspector-General of Police to form a special team to investigate Vell Paari.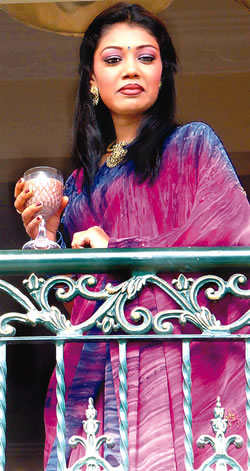 Source : IndianOnline